INTERHOME SPAIN & PORTUGAL BROCHURE
Get the very best out of your holidays – book your Spanish or Portuguese holiday home with Interhome UK!

What is INTERHOME?
There are 20,000 quality controlled holiday homes for rent in 16 European countries and in Florida. All of them can be booked online – be sure to visit our website.

Why INTERHOME?
38 years of experience in renting out holiday homes, 57 local offices in the most popular resorts guarantee the quality standard of Interhome. Half–a–million guests each year trust us with their most important weeks of the year.

The INTERHOME system
Interhome only rents privately owned self–catering holiday apartments and houses. We are in control of the availability that's why we can always tell you immediately if the chosen property is definitely available or not.

Lastminute Offers
Watch out for some special bargains when you book your holiday home Last Minute online with Interhome UK.



SORRY, THIS BROCHURE IS NO LONGER AVAILABLE THROUGH THIS WEBSITE.
The Visual History of Interhome Spain & Portugal Brochure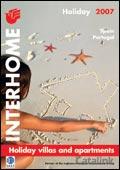 04 January, 2007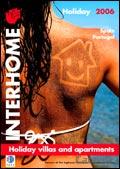 18 January, 2006