INTOURIST - RUSSIA & BEYOND BROCHURE
Discover the essence of Russia & Beyond with the IntoRussia brochure. From city breaks and river cruises; to bucket list train journeys and unique adventure tours; IntoRussia (formerly IntouristUK) can provide you with your ideal trip.

While their wide range of classic packages are still popular: including, among many others, the exclusive 4* Real Russia Tour (8 days featuring the Sapsan express day train between Moscow and St Petersburg), scenic river cruises and once in a lifetime Trans Mongolian rail tours, among many others; IntoRussia are always working to ensure that they can provide the best insight into this fascinating country and its neighbours.

They are therefore delighted to introduce in addition, brand new adventure tours for 2014; including bear watching, trekking, helicopter tours and volcanoes, which welcome you to discover a lesser known but enchanting side to this vast and fascinating country. As well as Russia, adventures and journeys in Mongolia, Uzbekistan and Georgia have been included and expanded. 2014 also sees the welcome return of the Kiev – Istanbul cruise route on board firm favourite, the MS Fidelio.

An extensive range of tours and ideas continue to be extremely well received on the IntoRussia website and, as always, their well travelled consultants are keen to add the personal touch and discuss any queries – tackling packages and tailor made itineraries with enthusiasm, however complicated they may be!

SORRY, THIS BROCHURE IS NO LONGER AVAILABLE THROUGH THIS WEBSITE.
The Visual History of Intourist - Russia & Beyond Brochure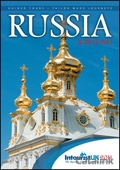 12 September, 2011