INTREPID - COMFORT BROCHURE
Get a free copy of the Intrepid Travel: Comfort travel brochure. For travellers who are longing to get off the beaten track, Intrepid Travel opens up a whole new world of opportunities.

Get off the beaten track with Intrepid Travel's Comfort trip selection. This is not luxury travel, but real world experiences. You'll see each destination up close, mingling with locals and enjoying a taste of their way of life. This selection allows you to get under the skin of your travel destinations, but have a slightly softer landing at night.

So if you're keen to experience the joys of family travel the real way, don't hesitate, sign up now for your free copy of the Intrepid Travel: Comfort brochure.
SORRY, THIS BROCHURE IS NO LONGER AVAILABLE
Front Cover Images of Intrepid - Comfort Brochure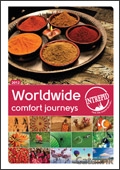 VIEW ARCHIVED BROCHURES