ISABELLA OLIVER CATALOGUE
If you expect nothing less than to look fabulous when you're expecting, Isabella Oliver's sexy designs, soft materials and contemporary style will have you looking and feeling great throughout your pregnancy. With quality fabrics and flattering fashion, their expertise, knowledge and imagination will give you vast range of choice for whatever occasion.

The catalogue features a stunning range of products to choose from including dresses, loungewear, skirts, jackets and blazers. Why not try their maternity skinnies? Fabulously designed with cotton denim, allowing for added stretch whilst maintain a chic, edgy look. Or how about the fitted Ruched Maternity Tank dress? Complimenting your curves and keeping you feeling sexy and feminine at those special occasions.

If you find yourself needing particular clothes for those particular events, browse through Isabella Oliver's extensive collection of specialist items including work wear, weddings, everyday essentials and gifts. With a host of confident and stylish smart–wear as well as gorgeous jackets and breathtaking dresses, falling pregnant doesn't have to mean you leave glamour behind.

There's nothing more important than comfort and wellbeing when it comes to your pregnancy and Isabella Oliver understands that fully. Cleverly placed details will ensure you have the best fit at all times whilst their thorough testing ensures only the best quality products reach your door. With a meticulous selection process when it comes to fabrics and an innovative design method that allows for your changing curves, you'll never have been happier in how you look.

So celebrate your pregnancy in style and luxury and order your Isabella Oliver catalogue now.

SORRY, THIS CATALOGUE IS NO LONGER AVAILABLE THROUGH THIS WEBSITE.
The Visual History of Isabella Oliver Catalogue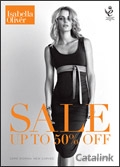 18 July, 2013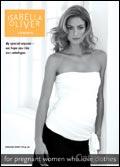 14 March, 2006