JEWEL IN THE CROWN HOLIDAYS - BLAZING TRAILS INDIA BROCHURE
India and Enfield – together these words immediately conjure up a holiday that's different from anything else you may have done.

You've seen happy travelers pictured in bike mags and travel supplements, hair matted with dust, disheveled clothes and a grin as big as the stunning scenery behind. Now you too can rude the dream and visit dusty plains, richly forested hill country, deserted cities, ancient temples, vast wildlife reserves and beautiful beaches.

This is as much a different time as a different country, which is perhaps why the drum braked, kick started, wrong side gear change Enfield is the perfect tool for the job.

A break with Blazing Trails isn't just a holiday; it's a sunny adventure that anyone can enjoy. Experience the buzz and colour of Indian life to the pulse of a single cylinder along a carefully thought out route. You'll stay in everything from luxuriant hotels with bars and swimming pools, to coconut shacks on the beach and even a night in a traditional Indian wedding tent.

SORRY, THIS BROCHURE IS NO LONGER AVAILABLE THROUGH THIS WEBSITE.
The Visual History of Jewel in the Crown Holidays - Blazing Trails India Brochure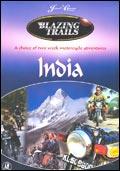 23 October, 2006