JMB TRAVEL - OPERA SPECIALISTS BROCHURE
JMB Travel - Opera specialists for 25 years

JMB Travel is one of the leading UK tour operators specialising solely in opera holidays, and has 25 years' unrivalled experience in catering to the particular needs of the opera lover. They couple that professionalism and care of the individual's requirements with a huge choice that covers over 20 different cities noted for their opera, where well over 100 different productions will be performed during the season.

The holidays include virtually in every case, the best grade opera ticket, accommodation which has been personally selected to allow a varied choice, exceptional quality, unique charm, and most importantly prime location. A choice of Air Travel or European Rail is available. Other departure airports, together with car hire, private tours, concerts and additional opera tickets can be arranged. For those of you who belong to an operatic organisation or wish to put together your own group, they offer a tailor-made service together with a generous discount for parties over 15 persons.

We present ourselves to you as the specialists who will arrange the music holiday you want and not try and sell you the holiday we have on our shelves. Whatever your choice, we look forward to being of service to you in 2011.


SORRY, THIS BROCHURE IS NO LONGER AVAILABLE
Front Cover Images of JMB Travel - Opera specialists Brochure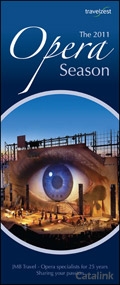 VIEW ARCHIVED BROCHURES