KAWREE BEAUTY NEWSLETTER
Beauty Products Inspired By Africa!
The Kawree beauty collection brings together a bounty of ingredients from Africa's rich environment to create a fantastic range of beauty products to suit your every need. Indulge yourself in the exotic ingredients as they revitalise you and excite your senses.
Sign Up to the Newsletter, and stay up to date on all future additions to the range of boutique products from Kawree!
The current range from Kawree beauty includes:
Facial kits with all the essentials for normal to dry skin that will nourish and hydrate
Wide range of fragrant soaps, all made from natural ingredients
An invigorating selection of bath oils made from blends of ingredients that will leave you feeling energised
Skin serums to brighten your complexion, giving you a healthy glow
Designer body washes to exfoliate, brushing away dull cells to brighten your complexion
Sign Up today, and get a 15% discount!
SORRY, THIS NEWSLETTER IS NO LONGER AVAILABLE THROUGH THIS WEBSITE.
The Visual History of Kawree Beauty Newsletter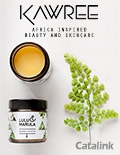 19 August, 2016