KEN MUIR 2016 GARDEN COLLECTION NEWSLETTER
At Ken Muir they pride themselves on providing only the highest quality, certified fruit stocks. They have an extensive range of fruit trees (top fruits) for sale, such as apples, pears, plums and cherries together with more unusual fruits such as mulberries, medlars, figs and nuts. They are so confident that you will enjoy growing their products that they provide a free after–sales advisory service together with a no quibble 6 month guarantee on all of their stock.

For the smaller garden they have a wide selection of Minarette fruit trees suitable for growing in pots, along with a variety of trained fruit trees. Their soft fruits cover strawberries, raspberries, blackberries, grapes, currants and gooseberries, together with more acid loving plants such as blueberries and cranberries. They also have a selection of asparagus crowns and gourmet mushroom logs. To compliment all these we have a comprehensive range of accessories which provide you with all you need to be able to grow and manage your fruit garden.

Ken Muir are renowned for their strawberry displays and regularly attend a number of horticultural and county shows. They have exhibited at the Chelsea Flower Show since 1970 and have accumulated over 31 medals which include 13 RHS Gold Medals.
SORRY, THIS NEWSLETTER IS NO LONGER AVAILABLE THROUGH THIS WEBSITE.
The Visual History of Ken Muir 2016 Garden Collection Newsletter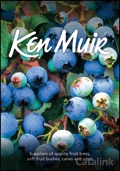 11 February, 2014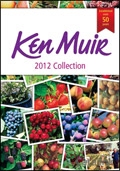 02 March, 2012