KUMUKA EUROPE BROCHURE
Our crew in Europe have a wealth of knowledge and experience which means that the organisation of your tour is in the best possible hands.

At Kumuka, we don't believe in selling you a cheap tour with hidden extras so there's no need to worry about your budget running out before you've seen all the great sights.

In our brochure you will see the amount and wide variety of inclusions which we offer, all of which are listed along with any option activities and excursions. From the delicious local foods: the wines of Italy, the cheeses of France and the Tapas of Spain to the stunning architecture: the grandeur of cosmopolitan Paris, crumbling Roman ruins and ancient spires of Prague.

Kumuka is an African word signifying the start of a journey or an awakening. Order our brochure now and begin to plan the European tour of your dreams.

Travel, Visit, Journey, Explore, or Relax. Venture a little further this holiday with Kumuka Worldwide.


SORRY, THIS BROCHURE IS NO LONGER AVAILABLE THROUGH THIS WEBSITE.
The Visual History of Kumuka Europe Brochure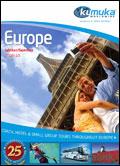 20 October, 2008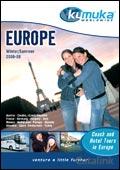 18 January, 2007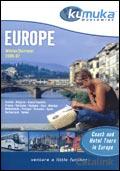 21 February, 2006