KUMUKA SOUTH & CENTRAL AMERICA BROCHURE
Kumuka Worldwide is a global overland adventure tour operator, specialises in organizing small group tours for the 18–45 adventurous traveller. Our crew in Latin America have a wealth of knowledge and experience which means that the organisation of your tour is in the best possible hands.

At Kumuka, we don't believe in selling you a cheap tour with hidden extras so there's no need to worry about your budget running out before you've seen all the great sights.

In our brochure you will see the amount and wide variety of inclusions which we offer, such as the Inca Trail, Bolivian salt flats and Ecuadorian jungle trips.
Travel, Visit, Journey, Explore, or Relax. Venture a little further this holiday with Kumuka Worldwide.


SORRY, THIS BROCHURE IS NO LONGER AVAILABLE THROUGH THIS WEBSITE.
The Visual History of Kumuka South & Central America Brochure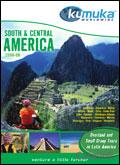 20 October, 2008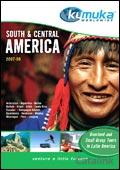 18 January, 2007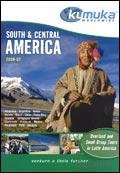 21 February, 2006