LAVENDER HILL CLOTHING CATALOGUE
Luxury British Women's Clothing
Lavender Hill Clothing create simple, luxurious, attractive and affordable pieces of clothing which you'll want to wear everyday. Order or download their catalogue today to discover all they have to offer!
Their super-soft t-shirts are the best around, with scoop neck styles, crew tee's, v-necks and polo shirts, whatever your preference you can find the softest t-shirt that suits your style.
The experts at Lavender Hill Clothing love to bring you the best in fashion, comfort and style whilst not breaking the bank with their prices. Order their catalogue today to explore their fabulous range of womens wear.
From super-soft leggings and cashmere jumpers to beautifully simple dresses and cosy socks - find something absolutely perfect for every style and personality with them.
Explore their accessory range and fall in love with their selection of scarves, hats, gloves, lavender scented toiletries and so much more.
Order your free copy of the Lavender Hill Clothing catalogue today to explore their incredible range of women's clothing!
SORRY, THIS CATALOGUE IS NO LONGER AVAILABLE THROUGH THIS WEBSITE.
The Visual History of Lavender Hill Clothing Catalogue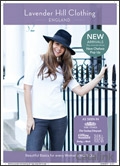 07 November, 2017