To order the Laybrook Adjustable Beds Catalogue, simply click the Request button below.
Request Catalogue
Comfort, Support and Mobility With Laybrook!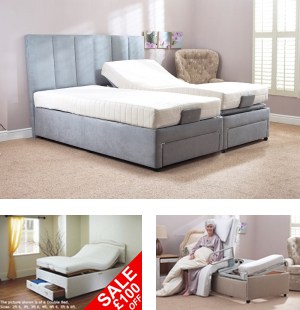 7 Night Free Home Trial*
Direct From the Manufacturer
Free Mattress Exchange
Free Delivery & Installation
Only 20% Deposit Required
5 Year Guarantee Including Motors
Single Bed Prices From £599.00
Laybrook are the manufacturers of adjustable beds and riser recliner chairs. They make good sleep and relaxation an affordable reality with a wide range of electric-powered adjustable beds, ergonomic mattresses and riser recliner chairs that will offer the best for your mobility, your comfort and support.
Order your free catalogue with price list today, and change your life with a Laybrook adjustable bed! Laybrook are also offering a 7 night free trial*, so you can see for yourself if their adjustable beds are right for you!
Laybrook adjustable beds are ideal for anyone who needs the support and mobility offered by adjustable beds, as well as anyone suffering from lower back pain, sore muscles, or heartburn. The Q-flex and Memory foam ergonomic mattresses are made for you weight and how you like the feel of the mattress, whether that be soft, medium or firm. The Laybrook bed, positions you to support your body and give you the best in stress free relaxation, all at the touch of a button.
Laybrook will also make your order process as stress free and relaxing as possible. Laybrook will oversee the delivery process from start to finish, set up your bed and take your old bed away. They will also exchange your mattress for free of charge if it's not quite right. With unbeatable prices, top quality and service, order the Laybrook printed catalogue with price list tody, and experience the best in comfort and relaxation!
*excludes special orders, terms and conditions apply