LEISURE OUTLET NEWSLETTER
The camping, cycling, caravanning and motorhome superstore


Discover the great outdoors in all its glory with the best value equipment and accessories on the market.

With inspiring solutions to all your outdoor needs, their extensive range will get you out and about in whatever way you choose. Going away for the weekend? Off to a festival? Or taking the kids camping? Leisure Outlet will give you what you need to make any outing a perfect one.
Camping & Outdoors – enjoy the tranquillity, excitement and freedom of a night under the stars with a collection that includes tents, grills, sleeping bags, mattresses, games, sports equipment and everything inbetween
Caravans & Motorhomes – create the perfect home away from home with awnings, roof racks, cooking equipment, portable toilets and much more
Cycling – make a great hobby perfect with a stunning range of city and mountain bikes, clothing and accessories
Motoring and Travel – take care of your vehicle whatever distance you go with covers, mats, bolster cables and safety equipment
Brands – enjoy unbeatable value with established brands such as Fiamma, Coleman, Al–Ko, Dawes, Oxford, Sunncamp and more
Quality guaranteed – rest assured that their products are tested to the highest standard, so you'll never be let down by your gear
Enjoy the outdoors your way
However you prefer to enjoy it, Leisure Outlet are committed to helping you make the most of the outdoors. With over 50 years' experience and a range that's second–to–none for quality and value, their eNewsletter will give you the deals you need to get what you want.

Sign up to the Leisure Outlet eNewsletter to make the most of the outdoors.

SORRY, THIS NEWSLETTER IS NO LONGER AVAILABLE THROUGH THIS WEBSITE.
The Visual History of Leisure Outlet Newsletter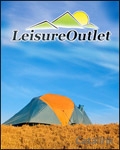 23 June, 2011