LILI SHIRTS CATALOGUE
Welcome to Lili – Living in luxury items

The concept of Lili is a simple one, to produce the finest ladies couture shirts using the best designers, clothes and jewellery smiths.

When designing our collection our designers incorprated the features of our name Lili. The results were beautiful. All of our shirts have their collar slightly curved as well as the elongated button cuffs to emulate the classic arum lily.

Our philosophy we believe is not just a materialistic one but also encompasses the highest of standards, a company based on true craftsmanship.

Why not request our collection brochure today and discover the other Lili products including our new Lili Tee shirt.
SORRY, THIS CATALOGUE IS NO LONGER AVAILABLE THROUGH THIS WEBSITE.
The Visual History of Lili Shirts Catalogue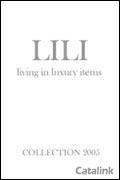 24 June, 2005