LINGUAPHONE NEWSLETTER
Whether you want to travel more confidently, explore the intricacies of a different culture in detail or simply have always aspired to learn a new language, Linguaphone will have you speaking fluently in no time. Broaden your horizons and explore new possibilities with a choice of over 50 languages and excel at your own pace with their proven learning methodology.

Linguaphone understand that learning to speak a language is an active skill that requires a delicate balance between practical and theoretical learning.

Their established ethos follows a fundamental pattern of 'Listen, Understand, Speak' which will have you speaking a new language in your very first lesson and confidently developing a new set of skills, structure and vocabulary as you progress.

Learn by listening to native speakers converse at different speeds and complexity, listen and read a language to familiarise yourself with normal conversation and even take part in conversations – but only once you've successfully covered the basics of course.

With courses available at varying levels of experience, such as beginner, beginner to intermediate and advanced to expert, you can tailor a course that matches your purpose and expertise. To ensure that you learn in a way that suits you, courses are available on CD, custom audio player sets and as MP3 downloads.

To stay up to date on Linguaphone's innovative new courses, tips, advice and product developments, sign up to the Linguaphone newsletter now and jump into a new world of culture and discovery.
SORRY, THIS NEWSLETTER IS NO LONGER AVAILABLE THROUGH THIS WEBSITE.
The Visual History of Linguaphone Newsletter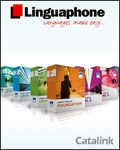 13 August, 2013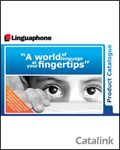 01 October, 2010
04 June, 2010

04 December, 2007