MAGIC RADIO NEWSLETTER
Sign up now for your FREE Magic E–Mail Newsletter, delivered straight to your inbox every Thursday!

5 great reasons to sign up include:


A million Magic ways to win the following sensational prizes:

5 star holidays & luxury weekend breaks
VIP concert tickets
Exclusive gourmet dinners at a host of London's finest restaurants
Sensational spa treatments
Money can't buy movie screenings
Desirable DVD and CD boxsets



Rub shoulders with the stars and find out where celeb coif cocktails & feast on fab food with weekly dining reviews.



Roll out the red carpet for weekly film news, reviews and prize giveaways.



Quintessential tips, tricks and offers from Magic's very own wedding planner – Magic Dust.



Win thousands of pounds with Magic's sensational station competitions!
Sprinkle a little Magic into your life with more at magic.co.uk – explore, enjoy and enter fabulous competitions daily!
SORRY, THIS NEWSLETTER IS NO LONGER AVAILABLE THROUGH THIS WEBSITE.
The Visual History of Magic Radio Newsletter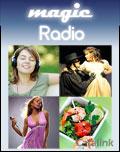 25 September, 2008