MAGNETIC THERAPY CATALOGUE
EUROPES PREMIER MAGNETIC THERAPY – CATALOGUE FROM GREAT BRITAIN DIRECT TO YOU.

They offer a range of products from magnetic insoles to instructional books which can help you to understand the theory and practise of magnetic therapy. You can also find products designed to help your pets – particularly if they are suffering from athritis or rheumatism.

Magnetic Jewellery has for centuries, been used for pain relief and many other health problems like poor circulation and night cramps to migraine and sleeplessness. Magnetic Bracelets are a specialty of theirs. They have a large range of effective Magnetic Bracelets, most of which come with there own magnetic boxes. Ideal for Joint Problems and having also a widely reported 'uplifting' effect.

Their Haematite Jewellery comes in carnival of beautiful designs. Haematite, some times spelt hematite, is a volcanic substance which is naturally magnetic. For centuries haematite has been used to help remove depression, in older texts Depression is referred to as Melancholia. This natural magnetic quality is electronically enhanced even further, to over 1200 gauss in our outstandingly effective Haematite Magnetic Jewellery.

Specialist Joint Pain Relief Magnets with Firm Joint Wraps offer a wide choice of very easy to use solutions to those terrible joint problems that affects so many of them. Magnetic Pain Relief for problems like Carpal Tunnel Syndrome and Tennis Elbow. Knee and Ankle pain wraps to fit your size. Solutions for those painful shoulder problems. Wonderful Magnetic Joint Pain Relief with you in just days!

The Therapy Magnets have a wide range of therapeutic applications and can be used at home or in a more formal Clinical Environment by Professional Therapists. Spot Magnets for Pain Relief, Acupuncture and Auricular Therapy. Included is a Magnetic Massager and Ceramic Wafer Magnets which are popular for Chakra work.
SORRY, THIS CATALOGUE IS NO LONGER AVAILABLE THROUGH THIS WEBSITE.
The Visual History of Magnetic Therapy Catalogue
24 January, 2013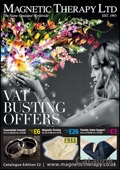 12 April, 2011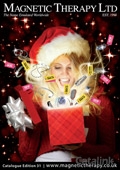 28 October, 2010
12 February, 2010