MANKIND NEWSLETTER
Want exclusive access to our offers, competitions and grooming advice delivered straight to mailbox?

Its packed full of news of our latest ranges and details of some very special promotions only available to signed–up members – so if you fancy being a Mankind VIP Sign up today!

Sign up and win £50 to spend at Mankind

At the end of each month we are giving away £50 to ONE lucky NEW subscriber to spend at Mankind

Mankind offers exclusive premium brand male grooming products selected or designed for use by men. The best skin, hair and body care products from around the world have been sourced to make you look and feel great.

Supreme confidence comes from feeling good about yourself and feeling good about the way you look.

So to help get it right we've sourced this unique and exclusive collection of skin, shaving, hair and body products form around the world.

Each item has been specifically made or selected for its suitability to male skin. Take one small step with Mankind and you'll never look back!

Mankind the ultimate in male grooming.
SORRY, THIS NEWSLETTER IS NO LONGER AVAILABLE THROUGH THIS WEBSITE.
The Visual History of Mankind Newsletter
08 June, 2006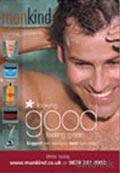 08 April, 2004