MARTILDO FASHION NEWSLETTER
Fashionably different fashion for men & women
Martildo Fashion are your new favourite place for vibrant, affordable fashion you won't find anywhere on the high street.
Exclusive fashion offers on gorgeous clothes and flattering designs make finding the perfect outfit simple AND cheap. With fast dispatch and delivery, hassle free returns and exceptional customer service Martildo Fashion are your new online fashion favourites.
Sign up to exclusive offers tailored to you
Affordable fashion for men & women
Summer styles - swimwear, dresses, tops, shirts & sandals!
Flattering plus-size ranges
Children's clothes for school & the weekend
Sign up to offers and fashion savings from Martildo Fashion - fashionably different menswear and women's clothes!
SORRY, THIS NEWSLETTER IS NO LONGER AVAILABLE THROUGH THIS WEBSITE.
The Visual History of Martildo Fashion Newsletter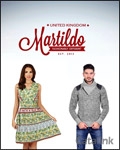 22 March, 2016