MEE MEE - KIDS TOYS & FURNITURE NEWSLETTER
Classic kids toys, furniture & playhouses
Mee Mee spread smiles through clever and beautiful products designed to intrigue and inspire your little ones.
Your kids only get one childhood - sign up for savings and offers on vintage designs to help you give your children a taste of magic when they play, sleep and relax!
Toys & furniture so good even adults would be proud to have them on display!
Classic toys, vintage doll houses & hand-crafted wooden bikes
Beautiful playhouses they won't want to leave
Fun kids tableware they can personalise & love
Brighten up their room with children's furniture & décor
Help your kids have some timeless fun with offers on vintage toys, furniture and games from Mee Mee London - sign up to offers and news now!
SORRY, THIS NEWSLETTER IS NO LONGER AVAILABLE THROUGH THIS WEBSITE.
The Visual History of Mee Mee - Kids Toys & Furniture Newsletter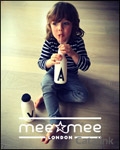 18 April, 2016