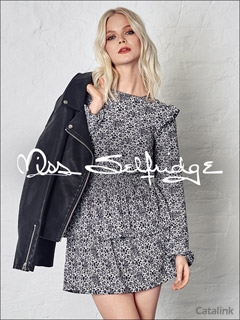 Tweet
Follow MISS SELFRIDGE on Twitter
Miss Selfridge
- 1 year ago
*Saves* this outfit inspo for when we can dress up! ❣️
@ultrasophisticate
x
#MissSelfie
(🔍: PETITE Black Spot Chiff https://t.co/5f2ezjcigU
Miss Selfridge
- 1 year ago
Cozy check ✔️ Sunday style just got even better 🧡 (🔍: Camel Velvet Rib Sweatshirt + Camel Velvet Ribbed Joggers) https://t.co/PqaC07umiQ
Miss Selfridge
- 1 year ago
If we could wear anything right now, it would be this ❣️ (🔍: Multi Check Pocket Button Mini Skirt, BAYLEY Black Po https://t.co/uPgw9oU7CI
Miss Selfridge
- 1 year ago
...Yet we still wear the same set every day. 🙈 Anybody else relate? 😂 https://t.co/OuumYNSFIu
Miss Selfridge
- 1 year ago
If only outfit picking was this fun 😍
@simply
_banji x
#MissSelfie
Shop new in: https://t.co/tnYVvt5W93 https://t.co/IS8EUF7wAR
MISS SELFRIDGE NEWSLETTER
To sign up to the Miss Selfridge Newsletter, simply click the Request Newsletter button below and you will receive amazing special offers, discounts and access to secret sales.
Request Newsletter
Miss Selfridge | Gorgeous Women's Fashion
If you're looking for the perfect outfit, endless gorgeous clothing and incredible style inspo, Miss Selfridge has exactly what you need - sign up to their newsletter today to explore all they have to offer!
From must-have weekend looks, trending styles and gorgeous day looks to outfits that add a little sparkle to your life, statement pieces and accessories to stun, you're sure to find the perfect piece with them.
The fashion experts at Miss Selfridge are on hand to help you find that perfect outfit. Explore their inspiration boards, favourite spots, top picks and more!
Make statements with your wardrobe not your bank account. The Miss Selfridge newsletter gives you everything you need (including great discounts) to keep you on trend, without breaking the bank.
Get the hottest co-ords around, dainty playsuits, affordable denim, slogan tops, gorgeous dresses and so much more when you shop their incredible range today.
Sign up to the Miss Selfridge newsletter now to keep fashion's best close to hand.