MOSAIC HOLIDAYS JORDAN & ISRAEL BROCHURE
Mosaic Holidays – Luxury Holidays to Jordan and Israel
These holidays take you beyond luxury, helping you indulge in whatever side of this glorious country you seek most.
Jordan
Jordan is a land of mesmerizing beauty and contrasts, rich in historical sites, unique landscapes and cultural experiences. From the fertile Jordan Valley to remote desert canyons, visitors can explore splendid desert castles and Roman ruins, gaze in awe at the haunting wilderness of Wadi Rum, or bathe in the mineral–rich waters of the Dead Sea.
Israel
Israel is one of the world's oldest travel destinations. It's defined as a Jewish and Democratic State in the Middle East. The appeal of Israel's ancient and holy past may be obvious enough but many new arrivals are surprised to see that it's much more than a lesson in history. The whole country is a combination of everything from Mt Masada and the Negev Desert to the beaches of Eilat. On a leisurely weekend you could surf, ski, sip wine, ride horses, go clubbing in Tel–Aviv or enjoy some cutting–edge theatre.
View or order the Mosaic Holidays – Jordan and Israel brochure now to plan your holiday now.
SORRY, THIS BROCHURE IS NO LONGER AVAILABLE THROUGH THIS WEBSITE.
The Visual History of Mosaic Holidays Jordan & Israel Brochure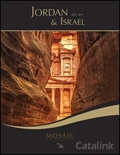 28 October, 2015