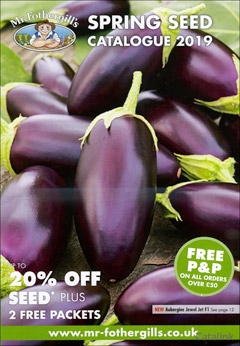 Tweet
Follow MR FOTHERGILLS SEEDS on Twitter
Mr Fothergills Seeds
- 15 hours ago
The large and unusual coloured blooms of Polyanthus Showstopper Fire Dragon F1 make fantastic additions to spring b https://t.co/3IK8hl8LCr
Mr Fothergills Seeds
- 18 hours ago
The unusual, dark green leaves of Kale Nero di Toscana are easy to grow for baby leaf or mature winter plants. Nutr https://t.co/UOeR9WJg51
Mr Fothergills Seeds
- 19 hours ago
Do something different with your courgette harvests this season and try this gorgeous lemon and courgette cake, fea https://t.co/JuHe9PY5sM
Mr Fothergills Seeds
- 21 hours ago
There's one reason why Royal Sovereign is grown by gardeners - its taste! The large, scarlet, wedge-shaped berries https://t.co/MvxqnBYTEH
Mr Fothergills Seeds
- 22 hours ago
Wisteria needs regular pruning to keep the growth and size under control, but it will also improve the flowering di https://t.co/5ab2ZDReQQ
MR FOTHERGILLS SEEDS CATALOGUE
To order a free copy of the Mr Fothergill's Seed catalogue, simply click the request button below.
Request Catalogue
Flowers, Vegetable Seeds & Plants!
Mr Fothergill's continues to be one of the UK's largest seed companies providing an extensive range of exceptional high quality garden vegetable and flower seeds and plants along with fruit, sundries and much more. Order a free copy of their catalogue today to browse the vast seed range, including onion, shallots and garlic, plus up to 20% OFF seed potatoes.
Whether you are an experienced gardener or just starting out they supply all the veg, flowers and fruit to inspire you for the season ahead, along with useful guidance and advice, while offering great value for money.
Being a family ran business they understand the importance of germination and garden performance which is why they grow and evaluate all varieties on their own trail grounds, carrying out quality control checks and supporting this practise with their Guarantee of Satisfaction.
They have introduced over 80 varieties of both vegetable and flower, seeds and plants. Including the most blight resistant tomato known of, Mountain Magic F1. Their exclusive Dwarf French Bean, Red Swan which keeps its attractive pink colour when steamed and the beautiful Echinacea Green Twister.
Their selection of Garden Equipment will help you create and sustain the perfect environment for successful yields busting with flavours and displays full of colour.
What's more SAVE up to 20% on all seed when you buy any 5 packets of seed you'll get the cheapest pack free! Plus all seed orders come with two free packets; Marigold (French) Alumia and Kale Afro worth £4.70 and P&P is free on orders over £50.