NATURES GREATEST SECRET - COLLOIDAL SILVER SKINCARE NEWSLETTER
The UKs No.1 Colloidal Silver Skincare Brand!
Discover cruelty-free, vegan beauty, skincare and petcare with Natures Greatest Secret. Number one in Colloidal Silver solutions. Sign up to their newsletter today explore all they have to offer!
With the widest range of formulations, you can find 10ppm, 20ppm and true 80% Colloidal Silver Solutions when you shop with them.
Get rid of those blemishes, tough skin and course hair - sign up today!
Made to help hard-to-treat ailments such as eczema, athletes foot, Psoriasis, Ringworm and Yeast infections, Colloidal Silver is a great way to heal your skin.
From lotions, shampoos and soothing gels to salves, balms and organic coconut oil, whatever you're looking for, you can find it with Natures Greatest Secret.
Shop for your pet and keep them healthy and happy or keep your stud in great shape and explore their equine range today.
Sign up to the Natures Greatest Secret newsletter today to receive member only discounts and updates on the number one Colloidal Silver brand around!
SORRY, THIS NEWSLETTER IS NO LONGER AVAILABLE
Front Cover Images of Natures Greatest Secret - Colloidal Silver Skincare Newsletter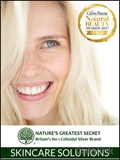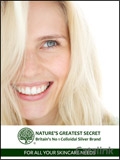 VIEW ARCHIVED NEWSLETTERS