NOBLE CALEDONIA - ALASKAN ODYSSEY BROCHURE
For those who really wish to experience the magic of the wilderness, to come close to nature and enjoy the serenity of the vast landscape, the vessels featured in this brochure are ideal as they carry between just 84 to 134 passengers. The cruises will explore the Alaskan coastline, the islands and fjords such as Prince William Sound, Glacier Bay National Park and the Russian Far East.
SORRY, THIS BROCHURE IS NO LONGER AVAILABLE THROUGH THIS WEBSITE.
The Visual History of Noble Caledonia - Alaskan Odyssey Brochure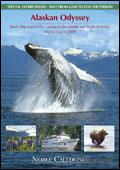 10 September, 2008

14 February, 2008

31 October, 2006