NOBLE CALEDONIA - ANTARCTICA QUARK EXPEDITIONS BROCHURE
Noble Caledonia are please to be working with Quark Expeditions who operate the voyages featured in this brochure. Quark Expeditions are the world renowned leading innovators of Polar Expeditions.

For the past 15 years Quark Expeditions has led the way in polar adventure, making Antarctica accessible to travellers who previously could only dream of setting foot there. In that time, their fascination with one of the last unexplored frontiers has grown steadily deeper. From their landings on little–known shores to their first passenger circumnavigation of the entire continent, Quark have carried on the spirit of the great explorers while sharing their passion for a region whose environmental sanctity transcends political boundaries and whose beauty defies description.
SORRY, THIS BROCHURE IS NO LONGER AVAILABLE THROUGH THIS WEBSITE.
The Visual History of Noble Caledonia - Antarctica Quark Expeditions Brochure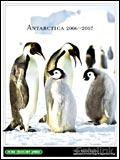 31 October, 2006