NOBLE CALEDONIA - ASIAN ODYSSEY BROCHURE
The remote reaches of Russia's Kamchatka Peninsula and the distant and isolated Kuril Islands have fired the imagination of explorers and traders for centuries. Join us on this remarkable voyage of unparalleled exploration along the 'Pacific Ring of Fire', cruising along the Kamchatka coast, through the Kuril Islands, and into Japan's northern islands of Hokkaido and Honshu.

Enjoy dramatic scenery, and encounter the region's ancient cultures and fascinating people whose lives are rarely touched by outsiders. The wildlife is some of the richest in the world and the scenery of snow–capped volcanoes, dense forest, tundra and meadow is spectacular.
SORRY, THIS BROCHURE IS NO LONGER AVAILABLE THROUGH THIS WEBSITE.
The Visual History of Noble Caledonia - Asian Odyssey Brochure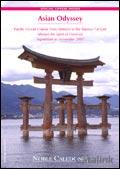 31 October, 2006