NOBLE CALEDONIA - CHRISTMAS RIVER CRUISES BROCHURE
Christmas in Central Europe is a very special time and nowhere is this more evident than in the cities, towns and villages of the Danube.

Our Christmas cruise along the Danube has been planned to include the Christmas Markets in Vienna and Salzburg, a 'Mozart tour' in Salzburg, and a day in the lovely Wachau Valley with a visit to the village of Weissenkirchen where the traditional joys of Christmas can be best enjoyed. For those who wish to attend Midnight Mass we have made arrangements for a visit to the magnificent church in Melk Abbey. Other highlights of the week will include a full day and two evenings in Budapest, a visit to the Hungarian palace of Godollo and a tour of the scenic Danube Bend and Hungary's second city of Esztergom. The shore excursions are included in the price and offer a wonderful opportunity to experience the magic of Christmas in the heart of Europe.
SORRY, THIS BROCHURE IS NO LONGER AVAILABLE THROUGH THIS WEBSITE.
The Visual History of Noble Caledonia - Christmas River Cruises Brochure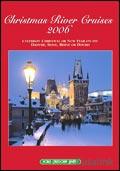 31 October, 2006