NOBLE CALEDONIA - INDIAN ODYSSEY BROCHURE
India is a truly fascinating country with its blend of religions, colourful people and exotic food. Also, few countries have such a range of wild animals. On this exciting adventure trip we venture into the Indian jungle on elephant back in quest for tigers, leopards and sloth bears.

The tiger is the world's most charismatic animal and there are few things as exciting as sitting on an elephant back with a tiger a few metres away. On this trip we visit the parks Kanha and Bandhavgarh, considered the two best places in the world to see wild tigers. While spotting tigers is the main goal of the trip, we will experience much, much more. Ride Indian elephants and see exotic animals like Barasingha deer, langurs, macaques and wild boar.
SORRY, THIS BROCHURE IS NO LONGER AVAILABLE THROUGH THIS WEBSITE.
The Visual History of Noble Caledonia - Indian Odyssey Brochure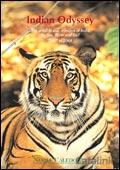 31 October, 2006