NURSERY WINDOW NEWSLETTER
At the Nursery Window they aim to use only the very best quality products to suit the most discerning tastes.

The Nursery can be decorated in one of our exclusive fabric designs with matching accessories. They sell a wide range of items from moses baskets to nappy stackers.

You can choose either solid oak or white painted pine for the nursery furniture.

The finest quality cashmere, merino and cotton is used for their pram, cot blankets and baby layettes.

They also sell exquisite cashmere pram coats, matinee jackets, and baby cardigans all hand knitted exclusively for them by Sue Hill.

Their baby gift basket service is individually personalised for each customer. Choose a gift for a special friend or relation – they can include soft baby toys, organic cotton babygrows, and cashmere blankets or clothes. For this service please call the shop on 0207 5813358

Finally it is one of their main objectives to be able to provide their customers with the best possible care and advice. They realise how daunting it can be choosing items for a new baby and their warm and friendly staff are always available to assist you in any way they can.
SORRY, THIS NEWSLETTER IS NO LONGER AVAILABLE THROUGH THIS WEBSITE.
The Visual History of Nursery Window Newsletter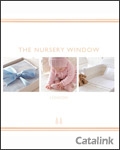 23 February, 2012

01 July, 2009

23 March, 2004