OLD OBSOLETE - DAXON - XXX CATALOGUE
Order your copy of the Daxon catalogue for £2.00 only, and this amount will be refunded to you with your first order in our catalogue!

The catalogue of elegance and comfort especially for ages 50 plus!

For stylish and feminine clothes that are a true pleasure to wear, look no further than Daxon!

Our 408–page Autumn–Winter 2005 catalogue features our biggest ever range of quality clothing for every occasion, from beautifully tailored suits to cosy sweaters. Our prices offer great value, and our size range is exceptional, too – from 12 to 38. And because every item has been designed for comfort as well as style, with Daxon you will look and feel your best right through the season! There's more to Daxon than just womenswear, too... our catalogue also features expertly–designed footwear, classic menswear, health and beauty products, and all sorts of handy items for around the home and garden.

Shopping with Daxon is easy, thanks to our friendly telephone advisers, easy–to–use website and no–quibble free returns policy.

Ownership of the catalogue remains with REDCATS BRAND until you complete your first purchase of goods after which the catalogue becomes yours.
SORRY, THIS CATALOGUE IS NO LONGER AVAILABLE THROUGH THIS WEBSITE.
The Visual History of OLD OBSOLETE - Daxon - xxx Catalogue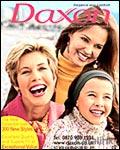 02 August, 2005

18 February, 2005