OLD OBSOLETE - XXX - ABSOLUTE AFRICA BROCHURE
"Karibu" or welcome to Africa with its incomparable wildlife, landscapes and cultures. We run affordable adventure overland truck camping tours based on group participation. Tours run from 9 to 77 days visiting East & Southern Africa. We have been established 15 years and have a wealth of experience to make your safari the trip of a lifetime. We are happy to answer any enquires you may have regarding our tours via email or telephone or visit our London office to view DVD/photos.
SORRY, THIS BROCHURE IS NO LONGER AVAILABLE THROUGH THIS WEBSITE.
The Visual History of OLD OBSOLETE - XXX - Absolute Africa Brochure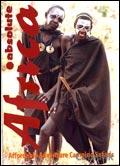 15 March, 2005