ORGANIC GIFT HAMPER COMPANY NEWSLETTER
Here at the Organic Gift Hamper Company we produce high quality gift hampers made only with organic ingredients. There are many benefits to organic food and more information can be found on our website.

As enthusiastic supporters of Fairtrade, you can be assured that our Organic Hampers are created with dedicated care and attention to detail. We are convinced you will enjoy the wide range of Organic produce on offer in our Organic Hampers which are brimming with the highest quality organic food and beverages, the hampers are sure to delight the palate of even the most discerning diner.
SORRY, THIS NEWSLETTER IS NO LONGER AVAILABLE THROUGH THIS WEBSITE.
The Visual History of Organic Gift Hamper Company Newsletter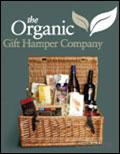 17 August, 2009