ORIGINAL STYLE LA BELLE COLLECTION CATALOGUE
Original Style's popular La Belle Collection brochure has been relaunched with brand new additions to the range including Butterflies, delicately beautiful hand–painted tiles, and an extended Bon Appetit range of delicious–looking assorted kitchen and food illustrations including conserve, bread, teapots and olives. These add to the existing, enduringly popular ranges of seafood, shells, fruit and vegetable designs within the brochure. The collection of highest quality, relief–moulded ceramic wall tiles are all hand–painted and create stunningly realistic, eye–catching decorative features in kitchens and bathrooms.

The brochure is now combined with Colour Palette, Original Style's extensive range of plain field tiles which co–ordinate perfectly with La Belle Collection tiles. Featuring 32 gloss colours, 24 satin shades, 5 subtle matt shades and 3 luxurious metallic shades, people are bound to find something to suit their home.
SORRY, THIS CATALOGUE IS NO LONGER AVAILABLE THROUGH THIS WEBSITE.
The Visual History of Original Style La Belle Collection Catalogue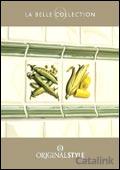 20 January, 2006