PANTALON CHAMELEON CATALOGUE
Pantalon chameleon is an inspiring and individual collection of clothes, shoes and accessories. Sizes range from 8 – 20. We always have offers available via our website so why not click through to our site? Orders are despatched within 24 hours.

Colourful, dressy, modern and fun clothing from our London based boutique and mail order company offering an individual collection you won't find anywhere else.

Particularly good if you have a special event to go to and you like long, pretty skirts and well fitting trousers which we match with embroidered tops and knitwear and some stunning shoes. You can finish off your outfit from our selection of beaded jewellery and other accessories.

Our shoes are always a signature part of the collection each season and highlight the very individual clothing range. You'll find quite gorgeous shoes. Always very good boots, loafers and dressy shoes.

We pride ourselves on our personal service and are always available to discuss your outfit before ordering. We can ship Worldwide and you can have your items tomorrow if you opt for our Express service.
SORRY, THIS CATALOGUE IS NO LONGER AVAILABLE THROUGH THIS WEBSITE.
The Visual History of Pantalon Chameleon Catalogue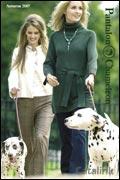 21 September, 2007

22 May, 2006