PARNA ARTISAN LINEN NEWSLETTER
Bring a Touch of Classic Style to Your Home!
Discover the timeless beauty of vintage linen fabrics home woven in Central and Eastern Europe during the first half of the last century. The Parna range includes embroidery, grainsack linen and indigo dyed linens.
The Parna from Vintage range is designed to make the most of these vintage fabrics. It includes bespoke items made to order including personalised hand-embroidered cushions and other personalised gifts. Parna's products have been featured on both TV shows and home design magazines.
Join the mailing list today, and be the first to know about the great deals and updates on Parna's exquisite collection of linen and hemp fabrics and productcs.
SORRY, THIS NEWSLETTER IS NO LONGER AVAILABLE THROUGH THIS WEBSITE.
The Visual History of Parna Artisan Linen Newsletter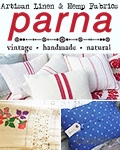 08 November, 2016