PETALINA DOLLS NEWSLETTER
Traditional children's dolls, clothes, accessories & beds
Petalina Dolls is the UK's leading retailer of traditional children's dolls.
Their extensive range includes everything from rag dolls and baby dolls, to grown up child dolls, together with more dolls clothes and dolly accessories than you could ever imagine, from well known brands including Gotz, Corolle, Kidz 'n' Cats and Antonio Juan. There really are beautiful dolls available for children of all ages.
Sign up to the newsletter to treat the kids to dolls they'll treasure forever ...
Beautiful branded dolls from across the world
Accessorise your dolls with dolls clothes, dolls beds & extras
Top brands such as Kathe Kruse, Adora, Our Generation and more
Sign up to exclusive member offers!
Sign up to the Petalina Dolls mailing list now to give your children timeless toys they'll remember for years to come.
SORRY, THIS NEWSLETTER IS NO LONGER AVAILABLE THROUGH THIS WEBSITE.
The Visual History of Petalina Dolls Newsletter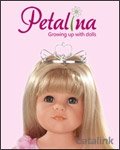 27 May, 2016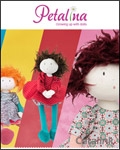 25 May, 2016