PHOENIX HOLIDAYS - DISCOVER EUROPE BROCHURE
Discover Europe 2011

In this brochure you will find a whole range of coach holidays throughout Europe so whether it's the Winter Wonderland of a Snowcoach holiday to Austria, a Valentine's Weekend in Paris, the kaleidoscopic colours of Springtime bloom in the delightful Dutch Bulbfields, or a whole range of Summertime holidays to Tuscany, Rome and Croatia, there's bound to be something for you!

They are delighted to announce the launch of 20 new additions to their portfolio for this year.

Many of their holidays for this year feature named hotels, they know that you like to know where you're staying. Half board and excursions are included in the prices for many of their holidays, they also know that you like to budget and don't like any hidden costs.

Join their coaches at any one of their 568 pick up points or make your way to the port and start your holiday a day earlier and take advantage of their special overnight deals at their hotels.

With a choice of three crossings options, they ensure that you get to Europe the easiest and quickest way. If you live in the North of England or Scotland, pick one of their holidays with included North Sea Ferries crossings from Hull or DFDS Seaways crossings from Newcastle – 2 berth inside cabins are included in the price of these holidays. In the South, crossings are from Folkestone and Dover.

Their carefully planned itineraries offer a delightful combination of included and optional excursions. Explore your new surroundings at leisure, take advantage of their excellent optional and included excursions, all of which will help you get the very most out of your holiday.

They are confident that these holidays represent the best value and highest quality available in the market place and they hope you enjoy reading about their holidays as much as they enjoyed putting them together for you!
SORRY, THIS BROCHURE IS NO LONGER AVAILABLE THROUGH THIS WEBSITE.
The Visual History of Phoenix Holidays - Discover Europe Brochure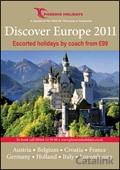 03 March, 2011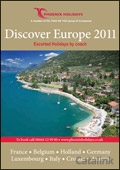 09 February, 2011