PLANET CRUISE - ALASKA AND CANADA BROCHURE
Experience the majesty of Alaska and Canada up close!
There is no better way to view Alaska than from a cruise ship, as you glide effortlessly through winding fjords, striking glaciers, snow-topped mountains and untouched landscapes.
Sail right into the heart of the Alaskan wilderness and you'll have the opportunity to visit some of the most unspoilt and uncrowded parts of these icy wilds.
You may be lucky enough to catch a glimpse of eagles hungrily surveying the coastline or even hump-backed whales playing in the icy channels. Spot a mother moose with her calf, or a grizzly bear emerging from its den. Listen to the sounds of the wolves howling as you're immersed in the sights of the natural wonders from an angle that you just can't replicate from the shore.
Browse through these pages to find sensational cruise itineraries paired with hotel stays, Rocky Mountaineer journeys or coach tours to make your perfect Alaskan cruise adventure.
Order your free copy of the Planet Cruise - Alaska and Canada brochure to book your adventure today!
SORRY, THIS BROCHURE IS NO LONGER AVAILABLE THROUGH THIS WEBSITE.
The Visual History of Planet Cruise - Alaska and Canada Brochure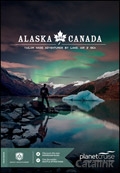 12 March, 2018