PRECIS NEWSLETTER
Precis offers great fashion for women 5' 3'' and under in sizes 6–18 – From occasionwear to workwear, to relaxed and casualwear (including a range of petite jeans), Precis offers the complete wardrobe for petite women. They also offer free UK P&P on every order.

Precis was the first brand to have the unique idea of designing a range of garments that are not simply 'scaled down' versions of other styles, but made on their own blocks and to their own patterns. Specialists in tailoring, the brand's hallmarks are clean, uncluttered lines and confident shapes. Beautifully inspired designs lead to feminine silhouettes, and combined with discreet detailing using the highest quality fabrics and craftsmanship, the garments give a sharp, contemporary look.

Sign up to receive their newsletter and be the first to hear about their new collections, special offers and sale previews.
SORRY, THIS NEWSLETTER IS NO LONGER AVAILABLE THROUGH THIS WEBSITE.
The Visual History of Precis Newsletter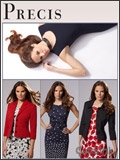 31 January, 2013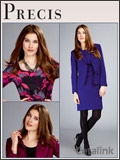 24 August, 2012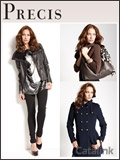 05 September, 2011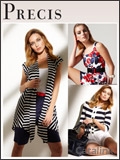 14 February, 2011