PRESENTS FOR MEN AND GIFTS FOR THE GIRLS CATALOGUE
Every gift occasion covered for men and women


If you've ever been stuck for a gift idea, then this is the catalogue that will solve your problems – with over a hundred pages of gift ideas, you'll never struggle again!

Presents for Men and Gifts for the Girls present a spectacular range of ideas for you to choose from:
Personalised gifts – add the personal touch with a gift that they'll treasure forever
Special Occasion gifts – Celebrate a birthday or passing an exam
Wedding and Anniversary gifts – help a happy couple celebrate or let the special person in your life know how much they mean to you
Quirky gifts – surprise them with a gift that stands out from the crowd
for everyone – including yourself
Of course, there's no reason why you shouldn't treat yourself to a present from time to time – if you feel like a treat then you're sure to find something you'll like in this catalogue.

With Christmas not far away, now is the time to be prepared – order your catalogue today to be inspired by their massive range of gift ideas!



SORRY, THIS CATALOGUE IS NO LONGER AVAILABLE THROUGH THIS WEBSITE.
The Visual History of Presents for Men and Gifts for the Girls Catalogue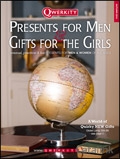 23 September, 2014