RAINBOW TOURS - AFRICA BROCHURE
An authentic experience every time

Whether you've visited once, twice or never been, Africa's magnificence needs little introduction. There are few better ways to experience the landscape, people and culture than with a crafted trip you choose.

And that's where Rainbow Tours come in.
Tailor–made travel – you set the rules, they do the rest
Exclusive tours – enjoy the intimacy and attention of small groups
Responsible travel – leave the land untouched and unspoilt
Location, location, location – choose from almost 20 countries
Themed Itineraries – wildlife, culture, history or adventure?
Expert knowledge – first–hand experience guarantees you enjoy the best of each location
Picture yourself exploring the Africa bush; relaxing on a pristine beach at sunset; sampling local cuisine in a bustling market town or seeing nature's majesty up close. Whatever your ideal trip, Rainbow Tours will get you there – how, when and at the price you want.

Browse through a brochure which has been carefully created by local experts and destination specialists. Have a trip in your head already? Tweak a package to your tastes or be inspired to shape one from scratch.

Choose a theme to your holiday and travel alone, with loved ones or in a group – to make sure you're happy with your trip from the beginning right to the end.

Be captivated by the African continent first–hand and in the way you choose. Whether Botswana, Namibia or Tanzania, gorilla–trekking or soaking up the rays in South Africa, you decide.

Order your Rainbow Tours – Africa brochure now to jump into an adventure.

SORRY, THIS BROCHURE IS NO LONGER AVAILABLE THROUGH THIS WEBSITE.
The Visual History of Rainbow Tours - Africa Brochure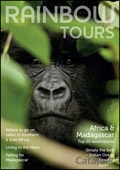 03 October, 2013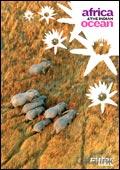 20 June, 2006