RAMBLERS WORLDWIDE HOLIDAYS BROCHURE
Worldwide walking holidays for Health, Heart & Soul
Ramblers Worldwide Holidays aims to satisfy the needs of walkers at every level – whether it be gentle, leisurely rambles or a challenging trek in The Alps.
Global destinations offer not just exhilarating routes but take you across the heart of some of the most inspiring landscapes in the world – whether that be the striking mountains of Switzerland or Greece's idyllic coastline.
Choose your trip by length and budget – with UK, European and global walks available, you can find the perfect walk to suit your needs.
Take off on a two week walking holiday to the furthest reaches of the Australian wilderness or maybe just book in a weekend away to explore romantic British landscapes close to home – the choice is yours.
Order your Ramblers Worldwide Holidays brochure now to set off on a walking holiday to remember.
SORRY, THIS BROCHURE IS NO LONGER AVAILABLE THROUGH THIS WEBSITE.
The Visual History of Ramblers Worldwide Holidays Brochure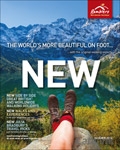 21 October, 2015
27 April, 2015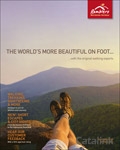 17 April, 2015
24 October, 2014