REEF AND RAINFOREST TOURS NEWSLETTER
Natural History Tours to Wild Tropical Destinations
Reef & Rainforest has provided tailor-made and group natural history tours to the world's top wildlife locations since 1989. Sign up to the newsletter today to receive alerts on the latest offers, trip ideas and destinations.
Discover stunning wildlife on breaks for adults and families, getting the most out of every area with the best local guides leading the way.
Head out on a whale watching cruise in Baja California; visit the Seychelles for incredible reef life and rare birds; walk the rainforests of Madagascar in search of agile lemurs and leaf-tail geckos; seek snow leopards in the mountains of Ladakh; go on safari in South Africa, Namibia, Tanzania and Botswana; track lowland gorillas in the Republic of Congo; marvel at mysterious Maya ruins in Belize and Guatemala; spot jaguars in the Pantanal wetlands of Brazil; go island hopping in Indonesia for Komodo dragons and tarsiers; enjoy the spectacle of birds of paradise in Papua New Guinea - all these experiences could be yours on a Reef & Rainforest holiday.
Also check out Reef & Rainforest's family holiday collection on the website, where you'll find natural history holidays tailor-made for you and your children. Treat them to a jungle river boat tour in Borneo or venture deep into the rainforests of Belize in search of howler monkeys. Enjoy an elephant safari in sunny Sri Lanka or view a volcano in Costa Rica. Whatever you and your family wish to do, we can arrange it for you.
Or if you like travelling with other like-minded nature lovers, consider joining one of our expertly-led, small group tours to destinations such as Papua New Guinea, Madagascar, Costa Rica, China, Namibia, Guyana, Chile and Brazil.
Sign up for the Reef and Rainforest newsletter today and receive inspiration for your wildlife trip of a lifetime.
SORRY, THIS NEWSLETTER IS NO LONGER AVAILABLE
Front Cover Images of Reef and Rainforest Tours Newsletter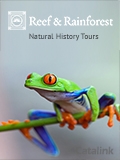 08 March, 2017