REGENCY HAMPERS NEWSLETTER
Exquisite Taste, Ultimate Gift – Pure Indulgence...

Founded in 2000, Regency Hampers has steadily grown to become one of the UK's leading providers of food and wine gifts:

They offer a wide range of exciting, high quality gifts, which are suitable for almost any occasion:
Christmas Hampers
Birthday Hampers
Anniversary Hampers
New Baby Baskets
Fruit Baskets
Pamper Hampers
Vegetarian Hampers
Non–Alcohol Hampers
Picnic Hampers


Their Commitment to Quality

As a member of the 'Guild of Fine Food Retailers' Regency Hampers have taken great care to select only the very finest speciality foods, fine wines and champagnes ensuring that they offer the utmost in quality and value for money. Many of their food and wine selections have been recognised in independent competitions, such awards have been indicated with icons throughout their brochure and website. Combined with stunning presentation and many uniquely flexible customisation options, Regency Hampers are able tailor the ultimate gift for your lucky recipient.

SORRY, THIS NEWSLETTER IS NO LONGER AVAILABLE THROUGH THIS WEBSITE.
The Visual History of Regency Hampers Newsletter
18 February, 2013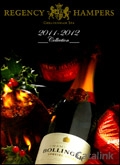 31 October, 2011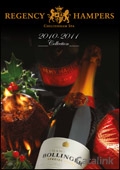 10 November, 2010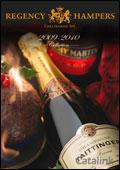 16 October, 2009