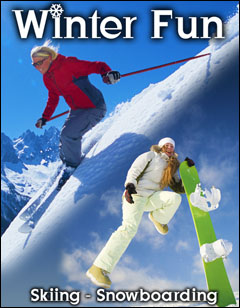 S2S - WINTER FUN HOLIDAYS NEWSLETTER
To order the S2S - Winter Fun Holidays Newsletter, simply click the Request button below.
Request Newsletter
If your winter so far has been all about cancelled trains, blocked roads and slip–slidey pavements then maybe its time to take a break and enjoy some of the really fun things wintery weather has to offer. Whether you are an expert off–piste skier or a complete novice, we have a brochure packed full of thrilling things to do and places to go to chase away the winter blues.

There's nothing to compare with the bright gleaming snow on the mountainside and that awesome sound of your board or skis on the crisp morning snow. Whether your preference is for an easily accessible Alpine break or an exhilarating holiday further afield our selection of great ideas for winter fun will get you on the right slope!