SAXON FURNITURE CATALOGUE
Handcrafted Leather Furniture – Direct from the manufacturer.

Saxon Leather Upholstery is a family run business that specialises in the design and manufacture of quality traditional and contemporary leather furniture.

All of the furniture that you will see featured within our brochures is handcrafted within our own workshop by our team of highly skilled craftsmen and women using only the finest materials.

Having been established for over 20 years, Saxon has developed a first class range of furniture that we proudly export around the world, both through individual and commercial orders. As a result our suites grace the reception areas of home, hotels, offices and Embassies worldwide.

At Saxon we believe one of our greatest strengths is giving you the client the widest choice of individuality, as every item of furniture is made to order, and can be upholstered in a vast range of leather finishes sourced from tanneries worldwide. Therefore if you wish to make modifications to one of our existing styles our team of highly skilled craftsmen and women can build your furniture precisely to your requirements.
SORRY, THIS CATALOGUE IS NO LONGER AVAILABLE THROUGH THIS WEBSITE.
The Visual History of Saxon Furniture Catalogue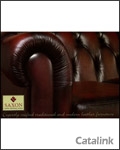 14 July, 2010

09 November, 2009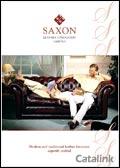 04 April, 2005