SEVENTH HEAVEN CATALOGUE
Established in 1971, Seventh Heaven are the leading specialists in antique beds. We travel far and wide, searching for and personally selecting prime examples of bedsteads. Back in Wales our team of experienced restorers meticulously renovate each bed, whilst ensuring their charm acquired over many years is maintained.

A great deal of emphasis is placed on the structure of the bed. We ensure that each one stands rigidly and is able to support the modern mattress and bed base.

At Chirk Mill, with over 5000 square feet of showroom space, our collection of restored beds is unrivalled. With 40 assembled, fully dressed with complementary bedding and bed linen, we are able to display our full range of highest quality mattresses and bed bases. With so much choice you are sure to find inspiration for the bedroom of your dreams.

Our brochure describes the different styles and sizes of beds we normally stock. Each bed is individual and the bed you order is the one you receive. We provide an excellent mail order service and can dispatch photographs of our current stock by e–mail or post.

Our highly acclaimed website is an ideal companion to the brochure. Updated weekly with much of our current stock, it includes detailed photographs and information on a wide selection of our antique bedsteads and all our other items.
SORRY, THIS CATALOGUE IS NO LONGER AVAILABLE THROUGH THIS WEBSITE.
The Visual History of Seventh Heaven Catalogue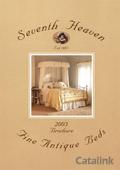 13 June, 2003