SHELDON & CROFT CATALOGUE
Sheldon & Croft is a family run business whose aim is to provide excellent quality jewellery and gifts at very satisfactory prices. All departments are headed by a member of the family to ensure that all orders are dealt with efficiently and quickly.

With our catalogue, we expand further into gifts for all ages. E.g: Cliff Richard bears, boys and girls gifts, puzzles, games, Elvis Presley jewellery to cars children can drive, party games and magnetic therapy. There is sure to be something for everyone. Some of the new products are available on our website now. New products are being added as we get them in. When you request this catalogue, you will automatically be sent our new catalogue, there is no need to re–request the new catalogue.
SORRY, THIS CATALOGUE IS NO LONGER AVAILABLE THROUGH THIS WEBSITE.
The Visual History of Sheldon & Croft Catalogue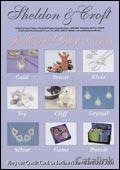 10 November, 2004