SKI GLOVE SHOP NEWSLETTER
The Best in Ski Gloves!
Ski trips bring back that feeling you get when you're a kid and you get an unexpected snow day. A bit of the world transforms, and winter goes from being a cold greyscape to a fun, almost magical place. They are the rare instances in life which are forever etched in our memory, times when we escape the daily routine and become children again, with rosy cheeks, numb fingers and full hearts. Whatever adventures you get up to, a nice pair of gloves can transform a good day into a great one and prolong the fun.
But gloves are more than your average winter or ski gear - they are part of your identity on the slopes, so it's no surprise to us that you want something which will keep you dry and warm but still looking cool. If you want to get your hands on the edge, find the perfect fit and mitt at Ski Glove Shop. Ski Glove Shop excels at stocking and selling the best while delivering a top-rated shopping experience.
Whatever the reasons, and whenever you're ready to venture out into the cold, Ski Glove Shop has got your hands covered. They know what a difference being warm and protected can make on your wintery adventures, and they want you to have the best time out there while also ensuring you get the best shopping experience.
SORRY, THIS NEWSLETTER IS NO LONGER AVAILABLE
Front Cover Images of Ski Glove Shop Newsletter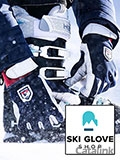 VIEW ARCHIVED NEWSLETTERS